BIOGRAPHY
California-born Carolyn Carlson defines herself first and foremost as a nomad. From San Francisco Bay to the University of Utah, from the Alwin Nikolais company in New York to Anne Béranger's in France, from Paris Opera Ballet to Teatrodanza La Fenice in Venice, from the Théâtre de la Ville de Paris to Helsinki, from Ballet Cullberg to La Cartoucherie in Paris, from the Venice Biennale to Roubaix, Carlson is a tireless traveller, always seeking to develop and share her poetic universe.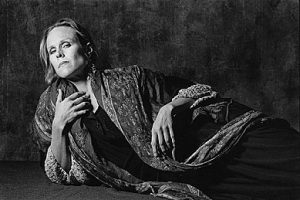 She arrived in France in 1971 the beneficiary of Alwin Nikolais's ideas about movement, composition and teaching. The following year, with Rituel pour un rêve mort, she wrote a poetic manifesto that defined an approach to her work that she has adhered to ever since: dance that is strongly oriented towards philosophy and spirituality. Carlson prefers the term 'visual poetry' to 'choreography' to describe her work. She creates works that express her poetic thoughts and a form of complete art within which movement occupies a special place.
For four decades, Carlson has had significant influence and success in many European countries. She played a key role in the birth of French and Italian contemporary dance through the GRTOP (theatre research group) at Paris Opera Ballet and Teatrodanza at La Fenice.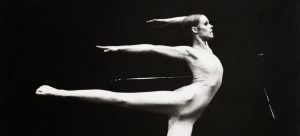 She has created over 100 pieces, a large number of which are landmarks in the history of dance, including Density 21.5, The Year of the Horse, Blue Lady, Steppe, Maa, Signes, Writings on Water and Inanna. In 2006, her work was rewarded with the first ever Golden Lion given to a choreographer by the Venice Biennale.
Director of the National Choreographic Centre Roubaix Nord-Pas de Calais from 2005 until 2013, Carolyn Carlson is now in residency at the National Theater of Chaillot for two seasons with the Carolyn Carlson Company, which produces and tours her shows all over the world.
In 1999, Carolyn Carlson founded the Atelier de Paris at the Cartoucherie, of which she is now president of honnor.
The Atelier de Paris-Carolyn Carlson / National Choreographic Center is managed by Anne Sauvage.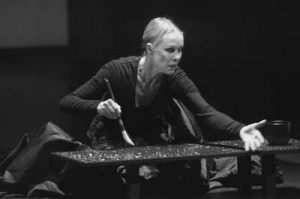 CAROLYN CARLSON CAREER HIGHLIGHTS
1965-1971
Leading figure in the Alwin Nikolais company
1974-1980
Etoile-Choreographer at the Paris Opera Ballet (GRTOP)
1980-1984
Artistic Director of the Teatrodanza La Fenice, Venice

1985-1991
Resident Artist at the Théâtre de la Ville, Paris

1991-1992
Residenct Artist at the Finnish National Ballet and the Helsinki City Theater

1994-1995
Artistic Director of the Cullberg Ballet, Stockholm

1999-2002
Artistic Director of the dance section of the Venice Biennale

2005-2013
Artistic director of the National Choreographic Centre of Roubaix Nord-Pas de Calais

Since 1999
Foundation of the Atelier de Paris-Carolyn Carlson

2014
Creation of Carolyn Carlson Company
Residency at the National Theater of Chaillot